Are you in the need to get around quickly without the effort? This is the ideal set of wheels for you.
Save money, save the environment and save your poor legs from long walks, as the Chaos (Sport) Big Wheel electric scooter has your back!
The scooter itself is the fastest of the FunBikes Power-board selection, so you know you are getting the very best.
It's great for taking yourself back to childhood when you could zip around on your little scooter, but with a more powerful twist! Stick around to see its incredible features….

What's included with it?
Of course, you'll definitely get the scooter for one! It also comes with a built in battery and its very own charger, so you can top it up when you need to give it some juice.
What are the features?
The scooter itself is incredibly versatile and sleek in terms of both use and storage.
It has large satin black alloys alongside a gorgeous wooden deck, as well as sport-level tyres to make sure the scooter is save and reliable to use. It is made with great care to ensure you stand out when using it, have great quality and get as much out of it for such a reasonable price.
The motor inside the scooter is called a 'brushless motor', which will give you a guaranteed excellent performance compared to other scooters on the market with brush motors, which can hinder the length of time in use.
When you aren't using the scooter, there's nothing worse than keeping something that simply does not fit anywhere or takes up space where you don't want it to be. However, with the Chaos Sport scooter, you can fold it up with one simple touch, giving you plenty more opportunities to hide it away when you don't need it!
What is the performance like?
Overall, the scooter has an excellent level of performance that will make any user feel like they have really found a bargain. It has a chain driving system, as well as a 12AH battery, which combined with the brushless motor and sport tyres will keep you buzzing all day long. Its maximum range is twenty kilometres, which is an ample distance to give the scooter a go. The battery life will keep going for over 250 cycles, meaning you only have to charge it on the odd rare occasion.
How big/heavy is it?
The Chaos Sport scooter is not only fast, but also incredibly light. Its minimal design means it only weighs forty-six kilograms, and is both 44 inches long, and 42 inches high. In order for the scooter to work effectively, the maximum load is 120kg, so it can zip away with ease.
What are the other specifications?
As well as the extra bells and whistles that this moped has, it's also incredibly safe and reliable to use. The brakes themselves are disc brakes, meaning that they can be counted on to come to safe and gradual halt when required. The electric motor is great for reducing your carbon footprint, as all it requires is a simple charge up!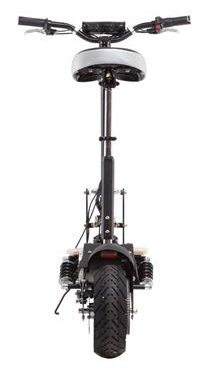 The frame is made from chromoly steel, which you can count on to be sturdy and supportive of a respective weight. It has a twist grip type throttle, so you really have all its power at your very fingertips. Although it isn't road legal, it is suitable to use on private roads and off-road with a gentle terrain, nothing too rocky!
How fast does it go?
The Chaos Sport scooter goes at a top speed of 40 kilometres per hour, giving you an incredible rush as you feel the wind whipping past you. Of course, this scooter is a lot more minimal in frame and design than an average car or motorbike, so any faster than forty would feel pretty terrifying! The scooter is light and simple in build, so it can hit this top speed with ease.
Is there a warranty?
Yes there is! The manufacturer's warranty covers the first six months of use, covering any defects in parts that are on the scooter. The battery has a separate warranty of three months, so it's worth keeping an eye on everything on the scooter for the first few months of ownership.
Overall, this scooter really is a total steal off the market, being at a reasonable price of just over five hundred pounds. If you want to get a set of wheels that you can count on and not have to break the bank, go ahead and take this scooter out for a spin 🙂
Get Yours Now: £520.00 at Fun Bikes.