The 500 Watt Evo Powerboard Electric Scooter is a cool, high powered adult scooter with a 24km range and a weight support of up to 120 kilos. The scooter weighs approximately 40 kilo and can do speeds of up to 34 kilometres per hour.
This scooter is perfect for an adult or teenager wanting a high power eco-friendly alternative to a motorcycle or automobile.
What's included?
The 40 kilo box will contain two 10" oversized tyres, a 110V-240V charger, battery pack, owners-manual in multiple languages, construction kit and multiple nuts and bolts. If you follow the instructions, you should be able to have it put together in a matter of minutes. If not, a few more should do the trick.
How it works & product features
The 500 Watt Evo Powerboard Electric Scooter is loaded with features.
From the high power battery with 250 life cycles, key start, high tensile steel frame for durability to the flashy paint job to the fold away handlebar this scooter is top of the line technology.
You can fold it up and easily store it in a medium sized space, the handlebars feature ergonomic grips that are both comfortable and easy to use and the scooter is just heavy enough to be stable under an adult.
Plus, it holds up to 120 kilos of weight meaning that almost any adult can use it. This scooter is extremely durable and will last forever, the engine is well built and the steel frame can take a beating. The full suspension swing arm gives you even more comfort as you sit on your scooter.
Advantages of this electric scooter
Whether you're looking for a commute to work or a great way to have fun in your off days, the Evo is definitely a good choice. It's powerful enough to go up and down hills, heavy enough to be stable and has a battery that will last long enough to get you where you're going (up to 25 kilometres).
The three 500 watt batteries can be changed out and charging time is 6-10 hours meaning that you can charge it while you work or while you sleep.
The scooter is also versatile and can be used for fun such as scooter races and running hills. The Powerboard is very comfortable and designed for adults and is a great choice for anyone who wants to use it for travel.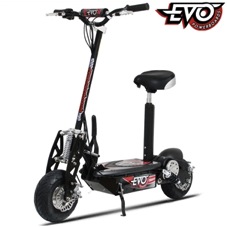 Disadvantages of this electric scooter
The 500 Watt Powerboard is quite heavy. It is too powerful and too heavy for anyone younger than 13 to handle. If you want your kids to use it as well, it really isn't a good choice.
The 500 Watt Powerboard is also quite sturdily built and can take up a lot of space.
Steve's verdict:
The Evo Powerboard is one of the best and most technologically advanced scooters you can find anywhere today. It receives top reviews and can be used as a transportation alternative.